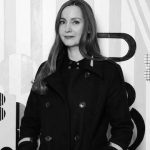 PhD Candidate - Faculty of Communication, Culture and Society, USI - Università della Svizzera italiana
Katharina Sand's research centers on the topic of social network tools, sustainability and the transmission of heritage and values in the fashion domain. Following her BA at London's Goldsmith's College and an MA from the Université de Paris 8, she is a fashion curator, editor and professor. She has covered the art and fashion world as a journalist and editor for a variety of publications since 1995, and founded the internationally renowned fashion platform SEPTIEME ETAGE in Geneva in 2000. In 2020 she co-curated the exhibition "Making FASHION Sense" at Switzerland's leading competence center for digital arts HeK , showcasing the radical transformation of the fashion industry through technology and new artistic paths leading towards increasing sustainability.
Katharina has taught at HEAD-Genève, PARSONS PARIS (The New School), Savannah's SCAD and the Kunstuniversität Linz. Following an ordinary professorship at the ESM in Montreal, she is a visiting professor at the AMD (Akademie Mode & Design) in Munich. AMD. She was a nominator for the Swiss Design Prize and has presented her research at international conferences including Shanghai, Dubai, Jaipur, as well as at Tedx Transmedia in Rome.