Barbieri, E., Kalbaska, N., & Cantoni, L. (2020)  eLearning in the Fashion Industry, Institute of Digital Technologies for Communication of USI – Università della Svizzera italiana, Lugano (Switzerland).
Download for free your report
(By doing so, you accept to receive the Digital Fashion Communication newsletter).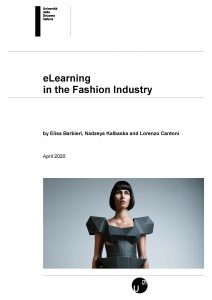 Executive Summary
The Fashion Industry is undergoing a major digital transformation, which encompasses not only processes from design to production, but also distribution, marketing, and the very co-creation of trends and styles.
Training is not an exception. eLearning, intended as the use of ICTs in teaching/learning experiences, has been adopted and integrated by fashion companies for several reasons and with various goals.
This report presents an exploratory qualitative analysis of how 16 international companies have leveraged on eLearning opportunities. In-depth interviews with trainers and managers in different units have allowed providing a vivid image of eLearning within Fashion companies.
In particular, the following facets of eLearning have been explored:
It has been introduced in order to train new and current employees, as well to support transformation processes and to become a learning organization.
Its end-users are mainly retail staff.
Its contents include knowledge about the company, selling skills, soft skills, customer management, and technical skills.
Its methods and tools are mainly assessment activities, organization of training in modules, videos, gamification tools, and documents.
It is assessed mainly at the level of knowledge, but also other Key Performance indicators have been adopted.
It can be optional or mandatory depending on the audiences and the covered topics.
It is managed mainly by the HR department, together with other units.
It can be either developed internally or outsourced.