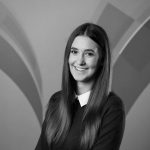 Junior Researcher - Faculty of Communication, Culture and Society, USI - Università della Svizzera italiana
Anett Lőrincz is a student of the MSc in Digital Fashion Communication at the Faculty of Communication, Culture and Society at USI in Lugano, Switzerland.
She has an academic background in Business and Finance having completed her Double Degree Bachelor's in International Business Economics at the Budapest Business School and in Business Administration at the Frankfurt University of Applied Sciences.
Anett is currently researching on the topic of Intangible heritage: The change of significance of Hungarian embroidery over time.
She works as a junior researcher at the Institute of Digital Technologies for Communication (ITDxC) of USI.
For more information, click here.