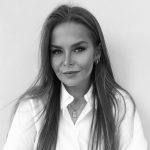 Junior Researcher - Faculty of Communication, Culture and Society, USI - Università della Svizzera italiana
Linda has an academic background in the fashion industry, having completed her Bachelor's Degree in Fashion Marketing and Communication with majors in communication at the Institute of Design (IED Moda) in Milan, Italy. For her bachelor thesis, she researched the disruptive change brought by male makeup to the beauty industry in terms of communication strategies and product offerings.
She is currently writing her master thesis on how Digital Transformation has impacted Western beauty aesthetics, representation forms, imitation, and finally, consumption of makeup.
She has completed a month-long internship within the beauty industry as a CRM & Marketing Intelligence Specialist at Intercos.