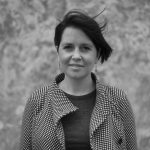 Researcher and lecturer - Faculty of Communication, Culture and Society, USI - Università della Svizzera italiana
Nadzeya Sabatini, PhD in Communication Sciences (2014), lecturer at USI – Università della Svizzera italiana (Lugano, Switzerland). She is an academic coordinator of MSc in Digital Fashion Communication (www.usi.ch/mdfc), Double degree between USI and Université Paris 1 Panthéon-Sorbonne, France. She is a group leader on Digital Fashion Communication Research (www.digitalfashion.ch) at the Institute of Digital Technologies for Communication (USI), where she coordinates research activities by PhD candidates and Master students on online communication practices in the fashion domain.
Since 2022, she is Assistant Professor in Digital Transformation at Gdansk University of Technology (Poland).
She serves Google within Google Online Marketing Challenge as a part of its Global Academic Panel.
Nadzeya has been a visiting researcher at Hong Kong Polytechnic University (Hong Kong), Business School of the University of Strathclyde (UK), Auckland University of Technology (New Zealand), and Operating Unit on Policy-Driven Electronic Governance of the United Nations University (Portugal). Her visiting scholarships were funded by the Swiss National Science Foundation.
Her research focus is on online communication practices and digital strategies, ranging from the use of IT for Human Resource Management (eLearning and MOOCs) to online usages and usability studies.

Skills: university teaching, research, distance education, coaching, public speaking

Research interests: digital transformation of communication and marketing, digital communication strategies, education technology (use of ICTs in HRM and learning analytics)

Teaching specialties: communication technologies, digital marketing, digital experience and online communication design, digital analytics, social media management, influencer management, usability studies, digital user experience, eCommerce

Languages: Belarussian, Russian (native); English, Italian (full working proficiency); French (intermediate); German (elementary)
To know more, click here.