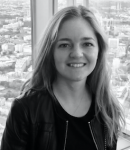 PhD Candidate - Faculty of Communication, Culture and Society, USI - Università della Svizzera italiana
Tekila Harley Nobile is Ph.D. candidate in Communication Sciences in the field of Digital Fashion Communication at the Institute of Digital Technologies for Communication at USI – Università della Svizzera italiana (Lugano, Switzerland).
She is teaching assistant of MSc in Digital Fashion Communication, double degree between USI and Université Paris 1 Pantheon-Sorbonne, France.
She holds a Master Degree in Strategic Fashion Marketing from London College of Fashion (London, UK).
Her research interests are in digital communication and marketing strategies in the fashion field with a focus on personalization and customization.
For more information, click here
Email: tekila.harley.nobile@usi.ch