The conversation was realized as part of Dr. Nadzeya Sabatini's course Conversations with Industry Experts offered by Università della Svizzera italiana and Université Paris 1 Panthéon-Sorbonne's Master Program in Digital Fashion Communication.
The article was written by Celeste Camilla, Koch Giada, Mortara Michela, Sidorova Alexandra, Valencia Catherine – Master's students in Digital Fashion Communication and edited by Alice Noris – PhD Student and Teaching Assistant.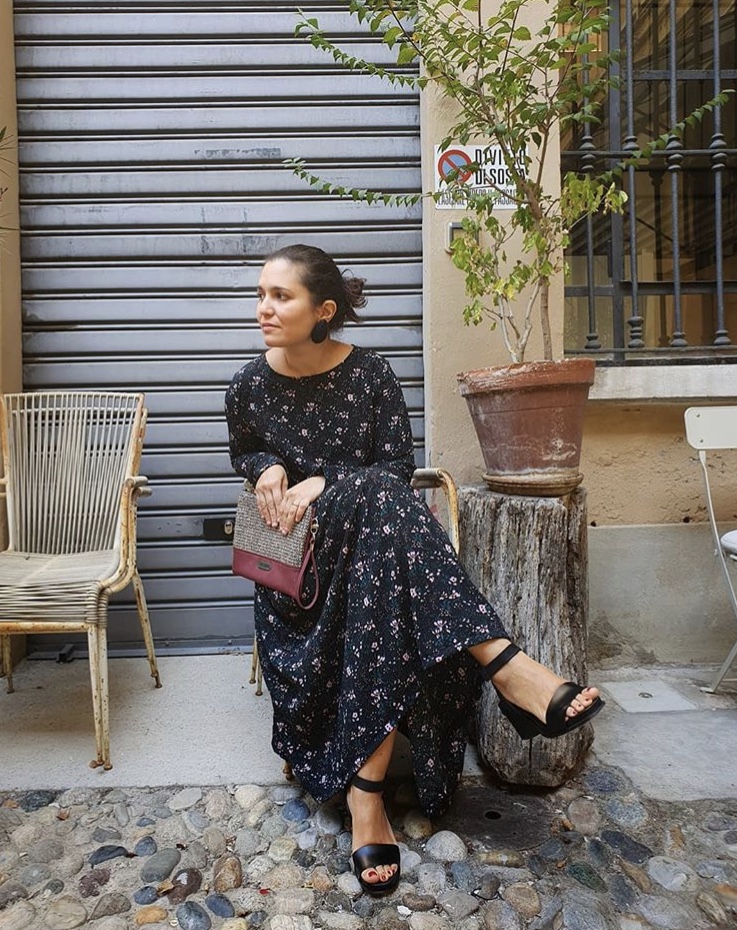 "I've never seen myself as a business woman, I've always seen myself as a creative person," but, in fact, Giulia Boccafogli manages to do both professions with ease. Born in Bologna, Italy, she graduated in architecture in Florence, but she always had a great passion for jewelry that she kept firstly as a hobby since her teenage years and then as a second job for the first years of her career as an architect. In 2011 she made the major decision to quit her job to fully commit to her passion and found her own jewelry brand "Giulia Boccafogli". Her innovative and contemporary style is translated into her collections, to which she works from her lab in the beautiful landscape of the lake of Como. Another piece of her dream came true in 2015 when she got for the first time the keys of her atelier. During an online interview released to our master students, Giulia said that her job is a very non-traditional one based mainly on the artists' inspiration, but she set it in a modern environment made of social networks, innovative materials and self-made experience. The part of her job she likes the most is the creative aspect because she can freely travel with her imagination almost without boundaries, taking her never-ending inspiration from her passions such as literature, cinema and arts as well as more personal experiences and travels she does during her life. Smiling, she told us that her background as an architect, where the boundaries are stricter, proves very useful when she has to control and optimize the flow of her thoughts. For Giulia everything comes from her creativity. When she creates a piece, she doesn't have a particular woman in mind, but the powerful style of her jewels defines her customer target: a woman with a good self acceptance, which is a more common characteristic among 35-50 yo women. She has always worked as an independent brand, firstly investing in the Italian market and then in the USA. However, she desired to broaden the business and China was a great opportunity thanks to a collaboration with an Italian owned showroom. The last two of them have their own fashion rules: the Chinese market is interested in luxury brands, so it is not easy for an independent brand to pass the entry barrier and stand out, but she thinks that Made in Italy is a great competitive advantage; The USA market loves unique pieces, craftsmanship and handmade with a massive interest in contemporary jewellery and art.
Giulia started to work with retailers, her jewels are sold in about 40 stores Italy and 20 worldwide, but in the last two years she has changed her strategy to make e-Commerce a significant part of her distribution strategy. She sells one collection every season uniquely to retailers and new products every month, in addition to the seasonal capsule collections, which are completely dedicated to her online shop. In her opinion, this strategy is important to keep the customers' attention high. She thinks about her clients as a community of people who collects her jewels, therefore another crucial aspect of her communication is the social media platform. On her instagram account she communicates worldwide as a ''human brand and not a corporate brand'', in order to communicate to her customers who're behind the jewels. In this way, she builds a relationship with her clients through interactions and discussions about her work. However, she's constantly trying to improve her skills in communication strategy. Giulia's work consists also in collaborations with fashion magazines. At the moment she is working with the cinema industry and she is planning to present a new project concerning circular economy with a big company involved in leather, but due to Covid-19 everything is moving slower than the expectations. Giulia has taken this period as an opportunity to focus on online sales and upcoming influencer marketing campaigns. Taking into account everything she stays positive and believes in the power of adapting for a small independent brand.
She always had a great interest in innovative materials, she liked to use materials like industrial scraps made of copper, rubber, innovative material in a typical way of contemporary jewelry. But she soon realised that she had to specialize herself in order to establish her business and gain credibility. Also due to her family background with handmade shoes Giulia decided then to work with leather, in order to have access to scraps to produce her pieces. Furthermore, she explained that she loves this material because it offers so many possibilities and gives her the freedom she needs for her creations: "you can use it as paper, as fabric, and even make sculptures out of leather, lots of possibilities". From the very beginning, the self-taught artist also realized the importance of the ethical implications of using leather. "Upcycling is one of the most important aspects that characterizes me and my jewelry", Giulia explains. She takes the issue very seriously and uses only scraps and unused stock from big companies. For Giulia circular economy is not just a word and for her brand being ethical means to use something already existing without creating new materials and that is why she is not using any eco-leather. But Giulia is also aware of the current trends and, therefore, she keeps an eye on vegan leather having some future projects to include the usage of pineapple leather, but, at the moment, the newness of the material makes it still very expensive.
Giulia has proven that the possibilities are boundless and has given insight into what it is like to start an independent jewelry business, all while maintaining and building a strong sense of community. In sum, she describes that many people habitually ask her to share her experience as maker herself, and she explains to them that for her the utmost importance is having a sense of community, whether it is with her customers offline or online. Moreover, she has also demonstrated us that the application of overlapping skills such as the ones she acquired while being an architect, can be exploited also in other areas such as the creation of her bold and imaginative pieces of jewelry. In the end, during the interview Giulia spoke about an upcoming event that will give her the opportunity to further promote her jewelry: she was recently handpicked to attend and showcase her collection by LOOT- mad about jewelry in New York City at the MAD museum, which is known to be one of the most valued events in the world in the field of art jewelry. But, unfortunately, due to the current circumstances with CO-VID19 the exhibition has been postponed from April 2020 to December 7th 2020. Despite the current difficult situation due to the spread of the virus ,Giulia explained that she is positively benefitting of this experience as a way to be able to learn to adapt and to keep improving herself and her business.
Additional sources: The conversation with Marta Giulia Boccafogli lay the basis for new reflections concerning the idea of entrepreneurship, the concept of "made in" and the importance of being sustainable. Here some educational sources that students shared on the topics that Giulia addressed:
05.05.2020