The conversation was a part of Dr. Nadzeya Sabatini's course Conversations with Industry Experts offered by USI – Università della Svizzera italiana and Université Paris 1 Panthéon-Sorbonne's Master Program in Digital Fashion Communication.
The article was written by Cheyenne Culiersi, Eglin Laika, Rugen Grace and Yadav Shiny – Master's students in Digital Fashion Communication and edited by Alice Noris – PhD student and Teaching Assistant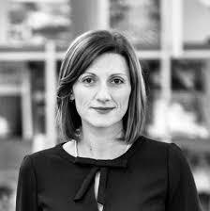 "Everything makes sense when you look back, the dots connect somehow, and they did connect for me!" said Jelena Tašić Pizzolato, who has an impressive and international career in finance, fashion, digital and e-commerce industries.
Jelena owns a MA in English Literature from the University she attended in Belgrade (Serbia), where she is originally from. Thanks to her studies she learned how to communicate fluently and eloquently as an English speaker and writer. These skills secured her first job as media monitor in a big PR international agency. There she worked with clients such as Mars, Snickers, Visa International and Discovery Channel. However, she realized that she didn't have an economic background and she felt she lacked some of the skills she might have gotten from an economic background. Therefore, she decided to further her studies and focus on finance by getting an MBA in Banking and Financial Industries in Bologna (Italy), which gave her the business background she was looking for.
During her path Communication and Marketing have always been the fil rouge of what she did so far, moving from agencies, to banks and finally to fashion e-commerce. After the MBA, once she started to work in the banking industry she realized that the field was heavily regulated and with too many restrictions. She felt that these characteristics of the banking system discouraged her creativity and, therefore, she decided to shift her career to the fashion industry, where she found the freedom she was looking for.
The fashion industry offered her the opportunity to live and work in many different cities and countries around the world. This expereince led Jelena to consider London as the city that offers most career opportunities, she said that it is a city that makes you feel "at the source of things, the place where things start". In addition to London, she also mentioned other cities like Amsterdam, Berlin and Lisbon describing them as great tech/fashion centers.
Currently Jelena is working on her Ph.D. dissertation, researching the effects that automation has on customer experience in the digital fashion domain. In other words, she is looking at the different ways in which an automated message can have a positive or negative effect on the overall customer experience. Her research aroused the curiosity and the attention of the DFC students, which are now eager to see the results of her research, since they might inspire further analysis, discussions and studies on the topic.
During the conversation Jelena showed herself very enthusiastic when discussing about sustainability and leadership aspects in the fashion industry. Concerning sustainability she stated, "we are the first generation that is aware of climate change and we are also the last one that can actually make the difference". When addressing this issue, Jelena believes we should have more faith than we normally tend to have for the fashion industry. The industry is often criticised for its superficiality; nevertheless, during the COVID19 situation it has shown to be one of the most pro-active sectors. Burberry and Chanel, for example, started immediately to produce coats and face masks for medical staff; Louis Vuitton, instead, is producing disinfectant; Armani and Donatella Versace donated towards the COVID19 cause. She also gave to the DFC students the most simple but effective advice on how to contribute to sustainability on a daily basis, by saying: "learn to read labels, learn to read what you are wearing, take time before buying something, you can make the difference".
Jelena then took a closer look to the concept of leadership and to the reason why the personality of the founder/owner of a start-up is essential. A good leader needs to be able to convince people, have good presentation skills as well as communication skills. The way a person presents her/himself to others can dictate whether your venture or business will be a success or failure.
Finally, when asked about the future of the fashion industry, she appeared to be very optimistic: "what we have seen from the previous financial crisis of 2008 is that there were so many cool business that came out from it like Uber and AirBnB". By expressing her opinion Jelena injected the students the hope that this shift is going to inspire new ways of thinking and give way to the rise of innovative start ups.
Additional Educational Sources suggested by the students related to the topics that Jelena Tasic addressed during the conversation:
17.05.2020