The conversation was realized as part of Dr. Nadzeya Sabatini's course Conversations with Industry Experts offered by Università della Svizzera italiana and Université Paris 1 Panthéon-Sorbonne's Master Program in Digital Fashion Communication.
The article was written by Giorgia Antolini, Francesca Mennillo, Felicitas Thieme, Luna Van de Walle – Master's students in Digital Fashion Communication, Ylenia Gervasoni and Francesca Gianini – Master's students in International Tourism, and edited by Alice Noris – PhD student and Teaching Assistant.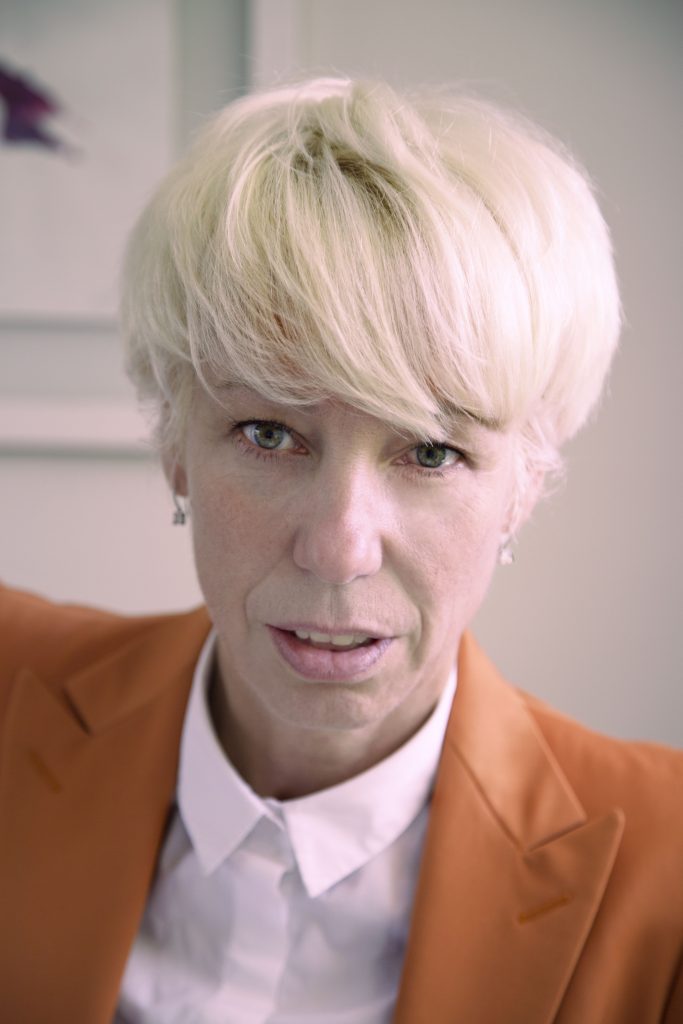 "Upcycling is now!" said Mimma Viglezio, a Lugano born and raised self-made woman, who has come a long way in fashion and luxury industry. She is now based in London working as independent consultant.
Despite the complicated circumstances, due to the Covid19 spread, Mimma Viglezio kindly agreed to share her story and experiences with the Master students in Digital Fashion Communication in an online interview within the framework of the course Conversations with Industry Experts. In preparation for the conversation the students were asked to think about interesting questions to be proposed, also considering Mimma's bio. The questions covered different topics dealing with her career path – from the very beginning up to the most recent events happening now in her work-life – , actual and past trends in the fashion industry, paying particular attention to sustainability issues, digital transformation and the role of women in the fashion field.
Mimma's working path, however, did not start in the fashion field. Her academic background is, in fact, in Comparative Literature and Philology. During the conversation she explained that, initially, her dream was to find a job where she could express hereself "writing, talking and researching". Therefore, she decided to start her career working in communication at Hill & Knowlton, a position that today we would consider in the marketing field.
Mimma Viglezio explained that her entry in fashion, more specifically in luxury accessories, happened when a headhunter asked her to join Bulgari in Milan. Once in the field, Mimma never left the fashion industry, having the opportunity to work for many well-known companies such as Louis Vuitton and Kering. Nowdays, as independent consultant, Mimma focuses her job in supporting startups and companies she really believes in. In particular, she is interested in companies whose main aim is to have a positive impact on the society. It is widely recognised that, after the oil production, fashion is considered one of the most polluting industries in the world: an aspect that Mimma considers absolutely unacceptable, a negative primacy she believes it should lead the fashion industry to a dramatical change. During the conversation, she condemned the fact that fashion houses still spend a huge amount of money during the fashion weeks in order to celebrate themselves and to be appealing to their media audience, rather than investing money in more sustainable solutions. Mimma fears that some companies consider sustainability more as a trend to follow than a necessity.
This and many other reasons led Mimma to get very passionate about up-cycling and innovation in textiles, with a particular interest in cruelty free and not polluting natural fabrics. Therefore, as consultant, she follows brands that are developing innovative ideas, such as biofabrication, a technique in which fabrics are grown from fungus in a lab, dramatically reducing the exploitation of natural resources like water. Despite she is conscious of the fact that the fashion industry has still much to do in order to be more ethical, she is a bit of optimistic looking into the future. She forecasts a change in the field soon and she expects that the next generation of children will ask: "What?! Did you really need to destroy nature or kill animals to wear shoes?". She strongly believes that the future of fashion will be more ethical, as far as it is possible in a consumer society, and she expressed her enthusiasm concerning the positive changes in this field once again by saying: "I am convinced, I know for sure, that it is happening! It's just a bit longer and a little bit more expensive".
While sharing her story and explaining her vision on the industry, Mimma offered us relevant teaching inputs. Firstly, she underlined the importance of stepping outside our comfort zone, becoming more flexible and ready to move, suggesting us, sometimes, to follow our instinct to create new opportunities. Secondly, she highlighted the fact that in some occasions we cannot have fear to say "no", even though this might mean refusing a proposal coming from prestigious companies. Every decision we take defines us as the persons we want to be, and this should be the most important value to follow. Moreover, Mimma's contribution to the on-going discussion about sustainability and fast fashion has been really relevant during the conversation. She is not afraid of challenging new generations to question the fashion industry's foundations, such as the ephemeral nature of garments or the exaggerated brands' investments into fashion shows. Mimma is currently working and fighting for a more sustainable future of fashion, and she is asking our generation to take action and think long-term: "I believe that the only solution is the next generation, you guys! We screwed it up, you can change it."
Additional Educational Sources suggested by the students related to the topics that Mimma Viglezio addressed during the conversation:
08.04.2020